2022 State Convention
2022 AAUW Hawaii State Convention planning is underway. The convention will be held in the Fall of 2022 at the Volcano National Park (https://www.nps.gov/havo/index.htm).
The convention theme is "The Effects of Climate Change on Today's Women."
Date: Friday Evening through Sunday Brunch, Sept 30th to Oct 2nd, 2022
Where: Kilauea Military Camp (KMC) (https://www.kilaueamilitarycamp.com/) in Volcano National Park, Hawaii Island
Lodging: KMC offers comfortable cottages and apartments offering one bedroom and two bedrooms, up to six bedrooms. Several have kitchens and almost all have fire places TVs and microwaves. The charges range from $160 a night for the one bedroom to $720 for the six bedroom house.
Conference Fee: TBD, likely be $150 to $200 (includes some of the meals)

2018 State Convention
2018 AAUW Hawaii State Convention on Equality: An Endurance Race, Not a Sprint was held in Kailua-Kona on Hawaii Island. Featured speakers were Kimberly Churches, AAUW National CEO, and Jeanne Kapela, State House Representative from District Five. Representative Jeanne Kapela was crowned Miss Hawaii in 2015 and was a former victims advocate for sexual assault before entering public office.
Events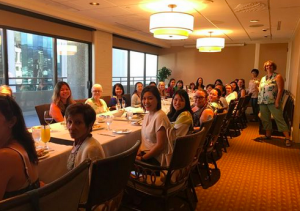 April 2021 Annual Meeting – Virtual
Mar. 24, 2021 Governor's Equal Pay Day Proclamation
Jan. 29, 2021 Legislative Session Talk Story
Oct. 8, 2020 AAUW partnered with Common Cause Hawaii for Mail In Voting
Aug. 25, 2020 AAUW partnered with Common Cause for Primary Election Results
July 14-15, 2020 AAUW Candidate Forums