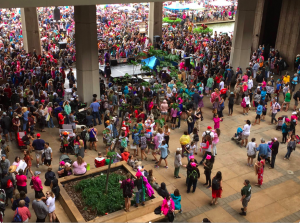 Advocacy is one of AAUW of Hawaii's top priorities and the Public Policy Committee collaborates with Hawaii state legislators and community advocates to improve Hawaii state laws to better the lives of women and girls in Hawaii. We are currently working on Title IX, equal pay, workplace sexual harassment and gender equity on boards. Learn more and contact the public policy chair, Younghee Overly (publicpolicy-hi@aauw.net) to be added to the AAUW of Hawaii Public Policy Network.
AAUW of Hawaii Public Policy Priorities
Title IX: Session Laws 2018, Act 110; Session Laws 2019, Act 177; 2020 HCR15/SCR6; 2021 HCR12/SCR9 (SR8 passed)
Equal Pay: Hawaii State Session Laws 2018, Act 108; 2019 HB1192/SB1375; 2020 HB1701/SB2253
New Equal Pay law requires pay secrecy, transparency for employees in Hawaii, From Hawaii News Now on July 18, 2018
Workplace Harassment: Session Laws 2020, Act 17
Gender Parity on Boards: 2020 HB2720/SB2636; 2020 HCR14/SCR9; 2021 SB193
Hawaii extends federal Title IX protections to LGBTQ students. It's the first such law in the country. By Zack Ford in ThinkProress on July 18, 2018
Governor Ige to sign bill on harassment, violence. By Jason Blasco in The Garden Island on Sunday, September 13, 2020 at 12:05 AM
2022: 50th Anniversary of Title IX
Since the passage of Title IX…
# of female high school athletes -> ten-fold growth between 1971 and 2007
# of female NCAA varsity athletes -> five-fold growth between 1971 and 2004
Percentage of female STEM workers -> 8% in 1970 to 27% in 2019
In addition in Hawaii…
2018 Hawaii State Session Laws Act 110 protects LGBTQ+ students under Title IX
Introduce Title IX bill(s) in 2022

More to protect victims of campus sexual assault
In preparation for 2022…
Seek input from students on University of Hawaii's Title IX regulations
Educate the public to gain support
2022 Legislative Session Panel Discussion
Click on link below to watch the online event on January 11, 2022 with Representative Linda Ichiyama, Representative Jeanne Kapela, and Representative Amy Perruso. These women shared their stories about legislation they introduced including Title IX, campus safety, paid family leave, and diversity on boards.
After the forum, the AAUW of Hawaii Public Policy team trained those interested in submitting legislative testimony.