SHARE THE NEW TITLE IX COORDINATOR'S RESOURCES!
AAUW's website has a link to new resources for the Title IX coordinator of every school and institution of higher learning.  As concerned members of this organization and protectors of the Patsy Mink legacy, we need to commit to spreading the word about these materials in our communities.  EVERY branch should dedicate itself to contacting schools to encourage the use of the new 30 page manual (available on the AAUW website).  Those of you who were fortunate enough to attend the national convention and hear Catherine Lhamon speak about the efforts of the Office for Civil Rights to ensure equal educational opportunities for girls and women know how important this is.  Please go to the website, download the letters and manual, and visit your local schools.
 Advocating for Women in Paradise   – AAUW-Hawaii's Convention 2016
Even in our beautiful state of Hawaii, there are issues and problems to address. This year's convention will focus on how AAUW responds to the needs of women in our state by providing information, inspiration, support, and an avenue to work toward a more just life for every woman in Hawaii. Sessions will include: Access to Success – Helping Women Achieve in Community Colleges, Legislative Efforts to Curb Violence Against Women – Our Public Policy at Work, and Reproductive Rights – The Challenges to Maintain a Healthy Environment for Women.
There will also be a session on Leadership, the focus of which you can help choose by participating in the survey on our website, a panel discussion of National Fellows, and a report from our national organization. Most importantly, our AAUW-HI Convention allows us to get together to share our successes, problem-solve our challenges, and simply enjoy each other!
The Kauai Branch will host us on April 29-May 1st at the Marriott at Coconut Beach in Kapa'a. Registration will open later this fall with an early bird fee of $150. This fee includes all sessions, continental breakfast and buffet lunch on Saturday, and Sunday brunch. Special pricing is also arranged with the hotel. Garden view rooms will be $149 for one or two, and the triple rate is $175. Make your reservations by calling 822-3455 and mentioning AAUW Convention.
October 06, 2014  AAUW members are fighting for women's reproductive freedom all over the United States, but it's part of a long legacy: AAUW members helped legalize abortion in the first place.
In 1970, AAUW of Hawaii spearheaded an effort to repeal the state's restrictive abortion law.  The century-old law stated that abortion would only be available when necessary to save the life of the mother. The momentum began one year earlier, in April 1969, at the AAUW of Hawaii board meeting. There, AAUW members, led by then-Legislative Chair Joan Hayes, voted to support repealing the law. In a statement written to the AAUW national office, Hayes explained that the group believed abortion should be a personal decision between a woman and her physician.
According to Hayes, "Women told us that they had just been waiting for some women's group to make the start." So AAUW of Hawaii did just that. Members organized an AAUW-sponsored Citizens' Seminar on Abortion. The event drew legislators, community and religious organizations, labor unions, business groups, professional associations, and citizens. They gathered to listen to reasoned debate on the issue.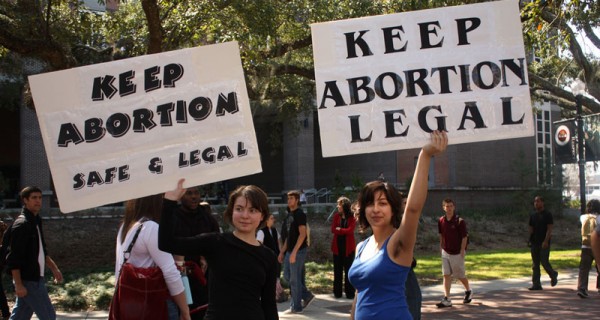 At the seminar, state Senator Vincent Yano, in a surprising move, announced that he supported an outright repeal of the law. Other legislators had proposed simply weakening it. Yano was a devout Catholic with 10 children and was personally opposed to abortion. Despite his own personal beliefs, he said that he did not have the right to impose his views on others. Hawaii's then-Gov. John Burns, who also opposed abortion, ultimately decided to support the repeal but made his personal views clear by never signing the legislation (in Hawaii, bills that aren't vetoed or signed become law after 10 days).
The new law made abortion available to Hawaii residents in an approved hospital by a doctor or surgeon — making the Aloha State the first to legalize abortion. In reflecting upon the success of the campaign, Hayes said, "Women are coming to realize that the right to control their bodies is as important as the right to vote."
Hawaii led the way, but other states quickly followed suit. AAUW state organizations across the country addressed the issue of reproductive freedom and called for the repeal of restrictive laws in their own communities. In addition, AAUW of Hawaii laid the groundwork for a national resolution in support of women's right to choose, which passed at the 1971 AAUW National Convention in Dallas.
Hayes, who passed away in 2005, thought the effort was so successful in Hawaii because of the state's diversity and tolerance and said that Hawaiians were "unafraid to innovate." How true, considering that it took the U.S. Supreme Court three more years to legalize abortion nationwide.
NEW STRATEGIC PLAN APPROVED!  The board of directors of AAUW-Hawaii approved the new, three-year Strategic Plan to guide the organization into the future.  As part of this plan, renewed interest in political advocacy will be led by Susan Wurtzburg, the new Public Policy Chair.  Stay tuned to be kept informed about issues and pending legislation in our state.  Welcome to the board, Dr. Wurtzburg!
Half the Rainbow was the theme for AAUW-Hawaii's state convention held April 25-27th in Honolulu.  Hosts Windward Oahu planned a wonderful gathering which was attended by 56 members representing all seven branches.  On Saturday, Dr. Susan Wurtzburg spoke about domestic violence;  AAUW Director Charmen Goehring provided a report from national about research and advocacy;  Leadership Chair Janet Morse led a session directed at avoiding leadership burn-out; and the day ended with a Pau Hana (Happy Hour) at the Mai Tai Bar.
On Sunday, Dr. Nancie Caraway, First Lady of Hawaii, spoke about human trafficking at the Installation Brunch.  Joanna Amberger was thanked for her 2 years as co-president, and Jamie Pardau was installed as president for 2014-2016.
Many thanks to Gretchen Gould, Convention Chair, and Sherry Butler, Windward Oahu president.  And a special thanks to Jacquie Maly, Hospitality Chair, who led the proceedings with humor and efficiency!  She even had a challenging project for the women to work on at the final session.  It was a week-end of inspiration, education, and fun with old and new friends.
EQUAL PAY DAY
Today is Equal Pay Day and I wanted to alert you to a few happenings. Yesterday the Honolulu Star Advertiser published an op-ed that Congresswoman Hannabusa and I co-wrote to raise awareness around the Equal Pay issue, which I am attaching below for your reference.
Mayor Kirk Caldwell has issued an Equal Pay Day Proclamation and the pictures and the proclamation will be posted on the state website shortly for your viewing pleasure.
Additionally, the Congresswoman is currently in the process of organizing a social media campaign to place pressure on Speaker Boehner to bring H.R. 377, the Paycheck Fairness Act, to the floor and would like to invite you to participate. I have attached a meme which shows the Congresswoman wearing a Pay Day candy bar lei that can be shared on your Facebook/Twitter/Instagram pages. We are asking that it be posted with a link to Speaker Boehner's contact page: http://www.speaker.gov/contact
Please let me know if you participate in the social media campaign to pressure Speaker Boehner or if you are participating in any other Equal Pay Day activities that we can highlight for the state. Mahalo!
Joanna Amberger
AAUW Hawaii CoPresident
Not just a women's issue
Pay equity and a higher minimum wage will affect women, families, communities and the nation
By U.S. Rep. Colleen Hanabusa and Joanna Amberger
POSTED: 01:30 a.m. HST, Apr 07, 2014
The recovery of the American middle class begins with good-paying jobs, but that cannot happen if women continue to earn less than they deserve.
The American Association of University Women's research report, "The Simple Truth About the Gender Pay Gap (2013)," reveals that, even 50 years after the Equal Pay Act was signed into law, women in Hawaii on average can expect to be paid only 82 percent of what their male colleagues are paid.
Equal pay isn't just a women's issue; it is a family and community issue. Women represent half of the paid workforce, and two-thirds of women are either the primary- or co-breadwinner for their families. Women also make up more than two-thirds of workers earning minimum wage.
In other words, increasing the minimum wage and pay equity present enormous implications not just for women, but also for working families, communities and the nation. In this economic climate, we cannot ignore such a critical issue.
As a member of the Democratic Women's Working Group, U.S. Rep. Colleen Hanabusa co-sponsored legislation that would increase the minimum wage to $10.10. She also is a co-sponsor of the Paycheck Fairness Act, to ensure that woman receive what they deserve: equal pay for equal work. Data continually supports the notion that fair pay affects everyone in the family. A recent study conducted by the AFL-CIO and the Institute of Women's Policy Research found that if married women were paid comparably to men, they would see an almost 6 percent rise in their families' incomes. That extra income could go a long way for the families of Hawaii.
Equal Pay Day, observed this year on April 8, is the symbolic day when women's earnings "catch up" to men's earnings from the year before. Because of the wage gap, it takes an extra three months for women to earn the same amount as men earned in 2013. Let's celebrate this year by passing the Paycheck Fairness Act, which would update the Equal Pay Act of 1963 by closing significant loopholes that exist in the law. It would also prohibit retaliation against workers who disclose their own wages to co-workers, and give employers and employees the tools they need to end unequal pay practices.
Another important step in ensuring pay equity is protecting workers' rights to discuss their pay, and increasing our capacity to track earnings of different demographics over time. President Barack Obama is being urged to sign an executive order banning retaliation against the employees of federal contractors for disclosing or inquiring about their wages.
The Institute for Women's Policy Research reports that nearly half of all U.S. workers are either forbidden or strongly discouraged from discussing pay with their colleagues. This often prevents women from knowing that they are being paid less than their male colleagues, and therefore prevents them from being able to challenge discriminatory practices. If the president were to sign this order, more than 20 percent of the U.S. workforce would be able to discuss their salaries without the fear of losing their jobs.
Alarmingly, there is currently no mechanism for federal enforcement agencies to detect widespread wage discrimination, so the Office of Federal Contract Compliance Programs is being urged to quickly finalize and implement its compensation data-collection tool to monitor average starting pay, raises and bonuses, minimum and maximum salaries, number of workers by gender, race, age and ethnicity, and other important data.
We must ensure that our workplace policies truly embody the spirit of aloha by demonstrating that all people are equally valued for their contributions.