Windward Community College (WCC) leveraged a $5,000 Campus Action Project grant awarded by the American Association of University Women (AAUW) to successfully apply for a federal grant worth almost $10 million. The Title III grant awarded to WCC this fall will provide for childcare facilities on campus and expand on Science, Technology, Engineering and Mathematics offerings at the campus.
The AAUW CAP grant provided funds in the spring semester for WCC to conduct a childcare survey and resource inventory to quantify the need for childcare services on campus and to existing identified resources available within the community.
"The AAUW survey made it possible to apply for the grant," said Ardis Eschenberg, Vice Chancellor for Academic Affairs at WCC. "The survey gave us concrete information of the state of need on campus and the specific population we should target. It was clear that our students were having problems finding care for infants and toddlers. For example, the resource inventory found that there were three open facilities in the area that served infants. The only one without a waiting list was very expensive at approximately $1,500 a month." Eschenberg said.
"I'm in the honors society, I maintain stable grades, but between picking up my daughter and dropping her off, it has become inconvenient to attend the classes I need to graduate," said Ashley Shankles, a student at WCC. "I'm a single working mom. I have three jobs, both on and off campus and take 21 credit hours, and if I get sick or she gets sick, I can't afford rent. I need help."
Marisa Ibrahim, another student at WCC, noted "It is very important for my preschool aged child to be in a steady, safe learning environment to enable me to focus on studying and attending college."
Approximately $5.2 million of the grant will be allocated to childcare on campus over 5 years. The first two and a half years will be spent renovating an existing building to the specific requirements of caring for infants and toddlers.
Eschenberg emphasized the critical role the AAUW survey played in applying for the grant, "Because I knew the specific needs of our students from the survey, I could look up the building codes, get the specific square footage required for infants and toddlers, estimate staffing costs much more accurately and was able to write a very precise grant all within the space and time limit of the grant."
After facilities have been renovated and staffed, childcare will be provided to student parents at no charge during the remaining term of the grant. Depending on the mix of childcare services provided, up to 28 children could be served in the new facility.
AAUW's recent research, Women in Community Colleges: Access to Success, found limited access to childcare disrupts the educational path of many mothers. Student parents consistently cite childcare responsibilities as a chief reason for dropping out of community college before completing a degree or certificate.
"It is just hard to attend classes when my children's school is on break. It does not coincide with WCC breaks," agreed WCC student Michelle Muromachi.
"We are very excited to be able to provide childcare facilities on campus. Our students have waited long enough – it's been 42 years!" said Eschenberg.
Honolulu Mayor Kirk Caldwell signed an Equal Pay Day Proclamation alongside AAUW representatives from the Honolulu branch, University of Hawaii at Manoa's student organization (AAUW-SM), Kapiolani Community College, and University of Hawai'i – West O'ahu. Click the images below to enlarge!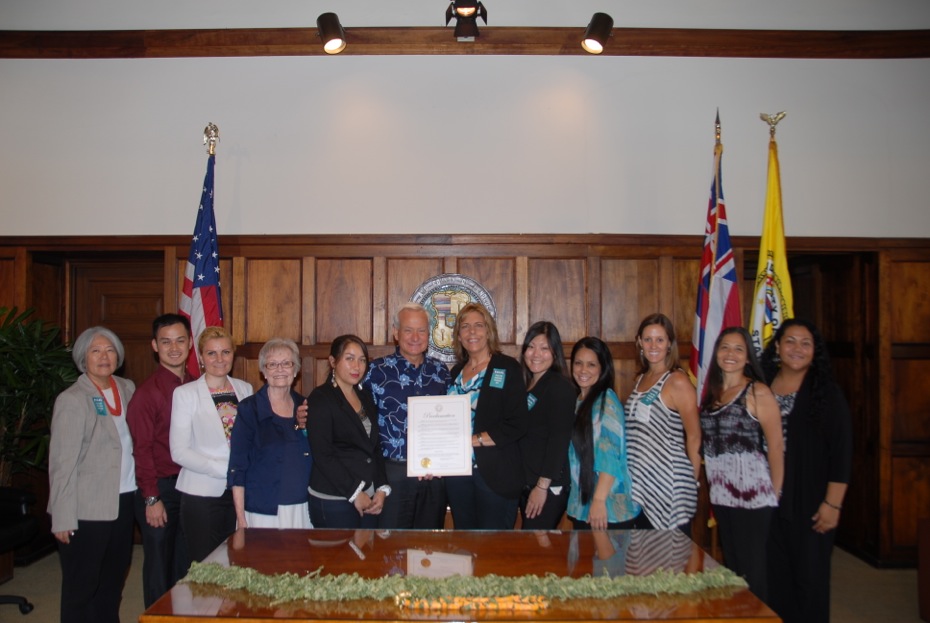 Amy Monk- AAUW Honolulu Branch, Trung Huynh-UHWO, Milli Boritzer-UHWO, Janet Morse-AAUW Honolulu Branch, Amanda Kamakea AAUW-SM, Mayor Kirk Caldwell, Kathy Hanson-AAUW-SM, Natasha Ariyoshi-AAUW-SM, Georgette Raynon-AAUW-SM, Vera Taylor-UHWO, Summerly Botelho-Jamorabon-AAUW-SM, Malia Ishimura Infiel-KCC.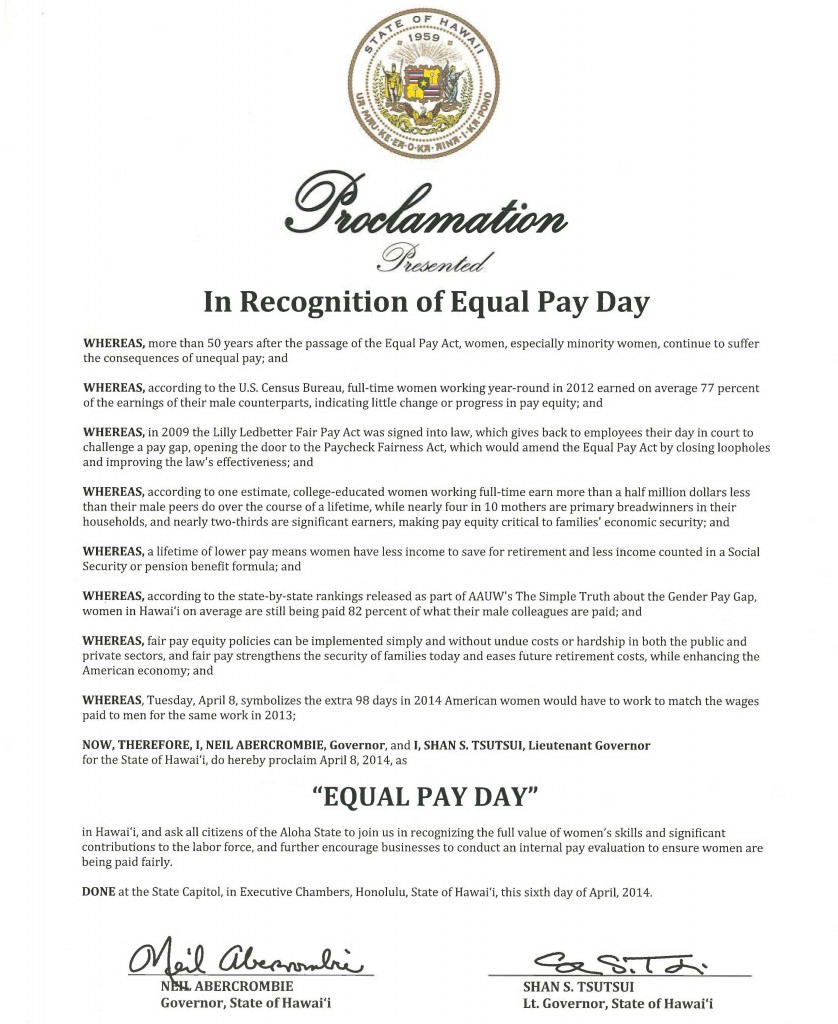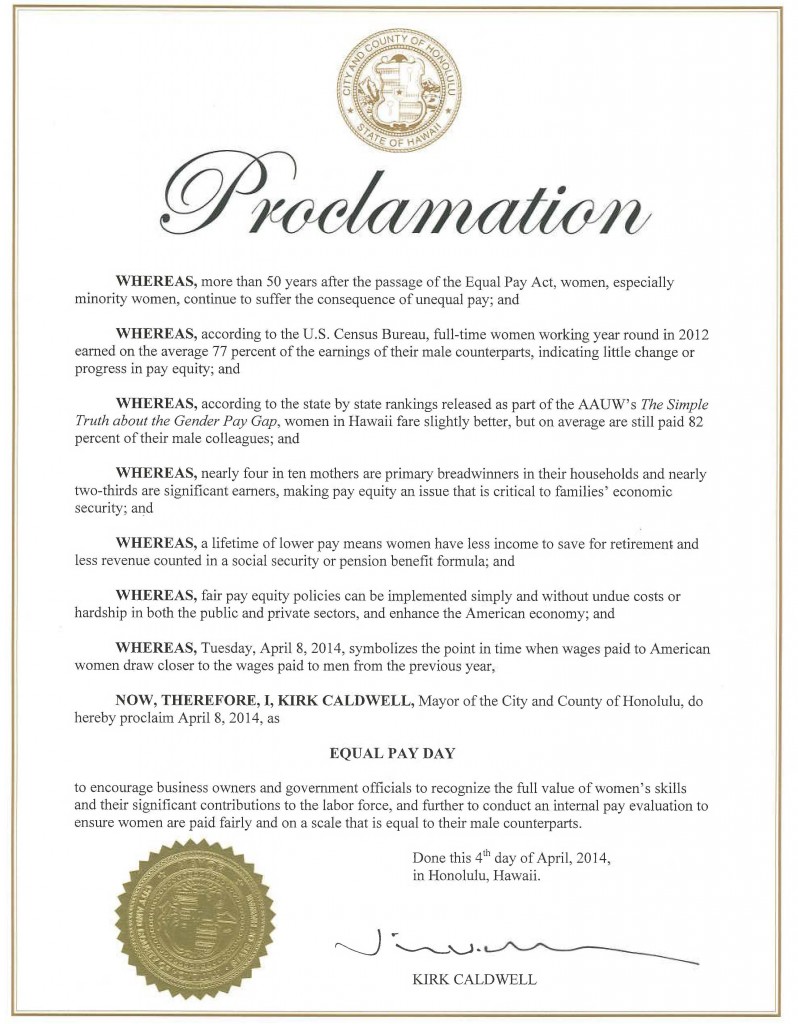 HILO
Hilo Branch 2014/ 15 Season is anticipated to be an exciting one…following last year's lead.   We continue to promote Mentoring at UHH, as we did last year. Also, last year we sponsored Four Large Community Forums – which were all well attended…GMO for Non-Scientists, GMO Forum by Community Experts, Rat Lung Worm Disease Forum by Experts, 40 Years of Women's Rights in Hawaii.  This was coupled with numerous fundraising events:  Silent Auction, High Tea, Oscar Viewing Party,  Progressive Dinner.  This ran along with other weekly spring networking luncheons held at the Hawaii Community College Bamboo Cafe, which is run by their second year culinary students, with a diverse speakers program each session.  Monthly guided hikes and book club discussions further enhance our programs.
Click the images below to enlarge!
---
HONOLULU
AAUW-National awards Grant to the Public Policy Program of AAUW-Hawaii
AAUW-National has awarded a Grant to the Public Policy Program of AAUW-Hawaii and appointed Dr. Susan J. Wurtzburg to the AAUW Public Policy Committee for a 2-year period beginning July, 2015. This means that Susan, Public Policy Chair for AAUW-Hawaii, and Chair of the Advocacy Committee for the Honolulu Branch of AAUW, will be spending less time kayaking and more time advocating for Equal Pay and helping to set national AAUW public policy. A number of advocacy initiatives will be occurring in fall 2015 and spring 2016, and it is hoped that the AAUW membership in Hawaii will be highly involved in these events. Please contact Susan at aauw.hi.publicpolicy@gmail.com if you would like to participate. She eagerly awaits hundreds of responses!
Equal Pay Day Fair — November 12, 2013 — UHM Campus Center
AAUW Honolulu Branch Holiday Party — December 13, 2014 at Barbara Fischlowitz-Leong's home

Elect Her Program
We are pleased to announce that the University of Hawaii at Manoa, in conjunction with AAUW Honolulu Branch was elected as one of a new training sites for 2013-2014 for the Elect Her Program offered as a partnership between Running Start and AAUW!
Elect Her
Elect Her–Campus Women Win encourages and trains college women to run for student government and future political office. A collaboration between AAUW and Running Start, Elect Her recognizes the need to expand the pipeline to women running for office and to diminish the longstanding political leadership gender gap.
Why Student Government?
Women hold only a small fraction of elected offices in the United States. Getting women engaged in politics and elected to office earlier in life is the key to strengthening and increasing women's representation in government. An important part of encouraging young women to step up and lead starts with participation in student government. With an earlier start in politics, women climb higher on the leadership ladder, opening the way for more women share the decision-making power of this country.
What Does an Elect Her Training Look Like?
Elect Her is a one-day, 4.5-hour training. Campus administrators, students, and local AAUW members collaborate with AAUW and Running Start staff to plan the trainings each year.
Honolulu Star-Advertiser op-ed
On June 9, 2013, the Honolulu Star-Advertiser published the following op-ed written by Joanna Amberger, president of AAUW of Hawaii and the Honolulu Branch of AAUW.
It's Time to Close the Gender Pay Gap
By Joanna Amberger
For many people in my generation, it may come as shock to learn that women continue to face work-force discrimination in the form of lower wages. We don't like to talk about money, so it takes a research report like the American Association of University Women's The Simple Truth About the Gender Pay Gap (2013) to reveal that, even 50 years after the Equal Pay Act was signed into law, the women in Hawaii on average can expect to be paid only 82 percent of what their male colleagues are paid.
The gender pay gap is personal. For my own profession, I've chosen one of the hardest old boys' clubs to try to break into: finance. According to AAUW's report, this is the occupation with the biggest gender pay disparity, and I see the evidence firsthand. The broker dealer I use publishes an internal ranking of the top 150 representatives. A survey of that list shows only six women named, with not one in the top 10.  That's a pretty steep professional hill to climb!  I've got my climbing gear on and I'm scaling that mountain, but there's no reason that mountain should be so steep in today's age.
Women's roles have changed dramatically since the Equal Pay Act was signed into law in 1963.  Women today are working to support themselves and their families. A majority of women are in the work force, and in six out of 10 families women are the primary or co-breadwinners. Hawaii families can scarcely afford to have our women earning less simply because our elected officials refuse to redress the injustice of paying workers based on gender instead of their skills and performance.
Yes, women's roles have changed, but only marginal strides have been made in closing the gender pay gap since the Equal Pay Act was signed into law 50 years ago. Since 1970, the gender pay gap has only closed by 17 percentage points, to an average of 77 percent nationwide.
That's because the Equal Pay Act has loopholes that make closing this wage gap difficult. The law hinders employees' ability to learn about wage disparities and to evaluate whether they are experiencing wage discrimination. It doesn't have any provisions preventing employers from retaliating against employees who ask about wages or share their salary information. And it makes it too easy for employers to pay different wages to male and female employees performing the same job without providing a legitimate business reason.
We need to update this important legislation to give the current generation the tools it needs to continue to close the gender pay gap. The Paycheck Fairness Act would do just that. It would close loopholes in the Equal Pay Act, prohibit retaliation against workers who disclose their own wages to coworkers, and give employers and employees the tools they need to end unequal pay practices.
Lucky we live Hawaii. Our elected officials understand the importance of this legislation to the people of Hawaii.
Let's get the Paycheck Fairness Act passed for Hawaii. Let's make sure our mothers, sisters, wives, aunties, daughters, nieces, grandmothers and granddaughters are treated with the respect they deserve and paid a fair, equal wage for the work they do.
---
MAUI
Newsletters
News
On a recent cruise to the Far East and Pacific islands, Janet Go, AAUW Maui Branch member, was greeted at Apra Harbor, Guam, by AAUW Guam President Dr. Mary Okada.  Mary drove Janet around to see some of the changes on the island since Janet lived there from 1965 to 1978.  Then they joined other AAUW  Guam members for lunch at a Chamorro restaurant. From left to right are Dr. Marjorie Driver; Mary Ann Cabrera, financial officer; Atilana Rambayon, life member; Sandy Liberty, new member; Dr. Mary Okada; Janet Go, Maui Branch member; Rebecca Stephenson, immediate past president; and Francesca Remengesau, long-time member.
AAUW Maui branch president, Cheryl Bergman (on right), hosted an informal get-together for visiting Honolulu branch members for the Maui Branch Whale Watch, a fundraiser for Maui scholarships.  From Left: Maui members Sandi Boll and Karen Grafe with Honolulu members, Kathy Hanson, Joanna Amberger, and Janet Morse.